| | |
| --- | --- |
| GAMBIT COVER STORY | 03 16 04 |
---


The Passion of Kathy Randels
The performance artist follows her curiosity wherever it takes her, from Belgrade to the Lower Ninth Ward, from a Contemporary Arts Center residency to performing 'necessary acts of futility' on downtown sidewalks.

By Constance Adler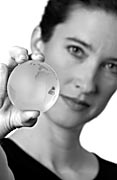 Photo by Romney Photography
How to be a performance artist in the 21st century: Follow your curiosity. Leave town. Find the thing that confuses you and irritates you. Talk about it. Yell about it. Write about it. Practice what you've learned. Love beauty, respect magic. Come back home. And don't forget to lighten up occasionally. Even a performance artist needs to rest herself.

'It's hard for me to be frivolous,' admits Kathy Randels. 'Even though it's good for me.' That said, Randels did recently take time out from a grant-writing deadline crunch to arise at 5 a.m. on Mardi Gras morning to finish her costume. She's a performance artist, yes, but still New Orleanian enough to know that no matter how important, everything else can wait until Fat Tuesday has finished rolling.

Randels is a performance artist in as pure a sense as one could imagine. She follows her curiosity wherever it takes her -- from her birthplace of New Orleans to studying theater at Northwestern University near Chicago to Paris where she met a Chilean dancer/choreographer on the street and married him. This two-year marriage, though brief, provided the material for Randels' later performance piece How to Be a Man in the 21st Century. (Never marry a performance artist unless you're prepared to become material.) In 1995, she returned to New Orleans, where she has set up shop as a performance artist and educator, devoting herself to both her art and her homeland.

Throughout these travels, whether geographical, personal or artistic, Randels remains true to her inner compass, allowing her questions to guide her. 'I don't like art that preaches,' she says. 'And the problem I have with politicians is that they proclaim to have all the answers. So for me, it means keep raising the questions.'
IN PLACING HER OWN CURIOSITY AS THE DIRECTOR
of her life , Randels has made the choice to live as an eternal student, holding herself in that halcyon state of intellectual exuberance, staying alive and awake to the thrill of discovery -- a state of being where ideas really matter. Remarkably, she does this at the age of 34, when other people might resign themselves to the workaday grind. Indeed, in much of her current work, Randels continues to draw on her undergraduate experience at Northwestern. One pivotal moment there occurred in a performance class where Randels, in the role of Hamlet, had to do a scene in which Hamlet yells angrily at Ophelia. Randels found she had a very hard time expressing the anger. Then her professor tried coaching her.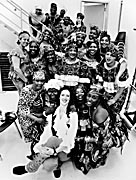 Randels with the Drama Club at the Louisiana Correctional Institute for Women. With her friend Ausettua Amor Amenkum (bottom right), artistic director of Kumbuka African Dance and Drum Collective, Randels guides inmates in crafting their own plays.
Photo by Libby Nevinger
'He got really down and dirty with me,' she recalls. 'And he said: "Hit me!' I just froze. He was serious, but I've never hit anyone in my life. And I couldn't hit him. It sparked a whole chain of thought about violence. I certainly had a lot of rage against people, but this set me on the path of wondering where it had all gone.'

Eventually it would go into her work. Once she located her own anger, Randels sat with the realization that many women like her are stifled by their society from expressing anger -- it's not ladylike. 'And that pissed me off!' she says. So she created Rage Within/Without, a solo piece that she based on her own experience and partly on interviews with women in the Illinois Clemency Project for Battered Women -- they were in prison for murdering their abusive partners. Randels realized she needed to learn from 'someone who had actually crossed the line.' That part of the text details the abuse that led to these women's ultimate violent response -- but the piece's opening comes from within herself, 'a vomiting of rage' over many injustices, a feeling of powerlessness.

Rage Within/Without is one of Randels' more in-your-face challenges to the audience, yet she says if she wrote it now, she would do it differently. She's not as angry as she used to be.

The research into the Clemency Project eventually led Randels to establish the Drama Club at the Louisiana Correctional Institute for Women. Randels travels 70 miles each Saturday to the prison in St. Gabriel to run a performance workshop for the inmates, where she guides them in crafting their own plays, such as a modern retelling of the Nativity story and a performance titled Gifts of Our Ancestors. Randels' friend Ausettua Amor Amenkum, artistic director of Kumbuka African Dance and Drum Collective, also volunteers to work with the Drama Club, and the two of them keep it going even though their grant funding dried up long ago. 'Oh, I am there to stay,' says Randels.

Randels also followed her curiosity to the former Yugoslavia in 1997 to observe the work of a Serbian theater group Dah Teatar, which she had first seen at a festival in Austin, Texas. Randels acknowledges that she knew little about the civil war in Yugoslavia then, and it was her enthusiasm for performance, not politics, that brought her to that place. The journey by bus through Bosnia, Croatia and into Sarajevo, where bombing had left only shards of the city, revealed a previously unimaginable scene to Randels.

Her father recalls that she telephoned from Yugoslavia and told him, 'I've been to hell and back, Daddy.'

'Seeing those huge skyscrapers that were shells, thousands of empty eye sockets. Video can't capture what that looks like, to be in the presence of such destruction,' says Randels, who tells the story in her solo piece, There and Back Again, My Friend. 'Yugoslavia is when the urgency came into what I was doing.'

Randels went back to perform with Dah Teatar in 1998, in a piece called The Helen Keller Case; she played the character 'The Black Lady,' a liminal shape-changing figure who brings messages back and forth between the spirit and physical realms. The Serbs used the example of Helen Keller to parallel their embattled nation's loss of communication with the outside world -- like a person who had lost sight, speech and hearing.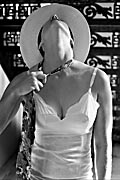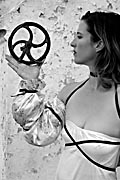 ArtSpot Productions' CAC residency includes The Maid of Orleans (right) and the upcoming Flee, Flee This Sad Hotel, set to coincide with the Tennessee Williams/New Orleans Literary Festival.
Photos by Libby Nevinger
During this time in Belgrade, there were rumors flying that NATO would begin bombing. Randels made the difficult decision to stay, and the first two bomb threats proved false. While Randels and the other members of Dah Teatar prepared to take The Helen Keller Case to New Zealand for a performance, yet another bomb threat surfaced. A week after the group arrived in New Zealand, this third threat proved to be real. The members of the company wanted to return home immediately to make sure their families were sill alive. Randels went back to the United States from New Zealand.

On her way home, she stopped in Washington, D.C. Randels was certain she could never countenance the actions of former Yugoslavian president Slobodan Milosevic, but she was also just as certain that bombing Kosovo was the wrong thing to do. Far too many innocent people were being harmed in her view. In the wake of this sudden, terrifying fracture in her collaboration with Dah Teatar, she wanted to do 'something that would be a test or a trial for the body. Something extreme.' In the end, she decided that as her protest, she would do the thing she had planned to do all along -- perform her part.

Randels donned her Black Lady costume and made up her face with black hollows around her eyes to resemble a death mask. Then she stood in front of the White House where she did her portion of the play as if the whole company were there with her. She spoke her lines and played to the 'ghosts' of the other characters. She made a commitment to repeat the play continuously over 24 hours. During the daylight, she drew crowds of people who seemed intrigued by this spectral Black Lady who appeared to be talking to herself. But as night came on, she was eventually alone performing for an empty street.

'That was hard, performing for no one,' says Randels. 'There were moments when it felt like prayer. I faced the White House and the flag and focused my energy on penetrating the walls to Mr. Clinton, and Hillary and Chelsea and their dreams. I know it's a drop of water in a waterfall, but I have to believe it was -- and is -- important. Aren't prayers felt in the world?'

In the end Randels only lasted 18 hours. The cold April night air brought her down. Yet, she was satisfied. The Black Lady reappeared a few years later in New Orleans on Camp Street in front of the federal courthouse -- this time to protest the United States' attack on Iraq. Her performance consisted of removing the stars from an American flag and putting them into jars of water mixed with salt to signify tears. Randels found that she attracted far fewer onlookers on the street in New Orleans than she did in Washington. This could be blamed on an outdoor concert happening nearby in Lafayette Park -- Randels had to compete with the pervasive thumping of an electric bass.

Randels calls these street performances her 'necessary acts of futility.' She is realistic enough to know that it's unlikely she can prevent her government from dropping bombs, no matter how hard she concentrates her energy. But she is also passionate enough to keep doing them because she is certain that she's right. And the performances are still worth doing if for no other reason than to keep discourse lively.

Futility notwithstanding, Randels returned to New Orleans a newly inspired performance artist. The experience of walking the walk through a broken Yugoslavia radicalized her. She married her sense of urgency to her curiosity, realizing it's not enough to be angry. She would make art that seeks justice.
'THAT'S A KIND OF CHEAP STANLEY. I'M NOT SURE
if we'll keep that,' says J Hammons, laughing as Randels experimentally sniffs at her own armpit.

'Whaddaya mean, cheap? It worked for Marlon Brando,' she whips right back at him, as she moves around the room, pausing in a pool of light. She holds her hands as if typing; that's Tennessee. Then she curls her hands into claws; that's Maggie the Cat. Then her hands flutter birdlike around her face in manner that can only be Blanche DuBois.

Hammons suggests her Tennessee Williams is starting to sound a little like the warden in Cool Hand Luke. Maybe she should vary the rhythm in the Blanche voice. 'Let us hear you enjoying the line the whole time it's in your mouth, not just when you swallow it.'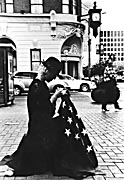 Randels protested the United States' attack on Iraq by removing the stars from an American flag and putting them into jars of salt water, to signify tears. She calls such street performances her "necessary acts of futility."
Photo by Libby Nevinger

Hammons is directing Randels for her upcoming solo performance To Flee, Flee This Sad Hotel to coincide with next week's Tennessee Williams/New Orleans Literary Festival. It's also the next event in the Contemporary Arts Center (CAC) residency for ArtSpot Productions, of which Randels is artistic director. She crafted the Tennessee Williams piece when she was in college for a class on non-fiction performance. Using Williams' own writings about his life, Randels plays the role of the playwright himself and many of his characters, both male and female, as they emerged through him.

'He had these two sides to him -- this Dionysian, alcoholic, pill-popper and a total man-chaser. But then every morning he woke up and hit the typewriter,' she says. 'Then his women characters are so amazing; they've become archetypes. How was this man able to do that? His sexuality comes into all these questions. Was he a Butch or a Femme? I think he was a Butch. He seems very domineering.'

Randels co-created the Moving Humans Performance Group as the performing component of ArtSpot in 2002, along with her friends J Hammons and Lucas Cox, a clown and aerialist who was killed in a bicycle accident a year and a half ago. The other member of the group now is Anne-Liese Juge Fox, who has been friends with Randels since the fourth grade; the girls had slumber parties where they invented talent shows and musicals together. Both went on to Benjamin Franklin High School and theater studies at the New Orleans Center for Creative Arts (NOCCA), where they gave side-by-side recital performances for graduation.

'It was NOCCA that set us on our path of doing original work,' says Fox, who also became friends with Hammons -- a Jesuit High School graduate -- during school plays. 'When we were in fourth grade we thought we would be big Broadway stars. But once we started studying the craft, then being a star was less important. Honing the craft became the most important.'

All three Moving Humans left New Orleans as young artists to seek wider creative and professional horizons. Fox went to New York University's Tisch School of the Arts and then lived and performed in Paris and San Francisco, while Hammons lived in New York City and traveled all over the world as a company member of MOMIX, and Randels was still performing in theater-rich Chicago after she finished college. As if by some intuitive pre-arrangement, they all ended up back home, bringing their educations and worldly experience with them to create this new collaboration in New Orleans. The return was certainly a lifestyle choice -- New Orleans is easier than most other cities -- but it was also an artistic choice.

'Chicago was saturated. I never felt in my skin there,' Randels says. 'New Orleans is big enough that you don't go stir crazy. But small enough that you can feel connected to the community.'

Randels met Hammons when he stepped in at the 11th hour to help Randels with her play Rumors of War, which she describes as 'the one that almost killed me.' Rumors of War revolves around a slave revolt in Louisiana on the eve of the Civil War, and it was an ambitious piece for Randels in terms of the large ensemble cast. For this play, she was also attempting to apply what she had learned from Dah Teatar to the New Orleans ensemble. The Serbian group rehearses at an intense pace, working in the studio six to eight hours a day, five days a week. Randels realized, too late, that it was unrealistic of her to place this same expectation on local actors in a performance project that didn't pay very much. Two months before the opening, the entire cast abandoned the project.

'I felt betrayed, crushed. I tried to figure out what I had done wrong,' she says. 'And I wanted to throw in the towel. I didn't think I could just start over.' Hammons stepped in to help, and that's when they re-made the first scene around the idea of a slave revolt, thus making Rumors of War an almost entirely new -- and Randels thought much better -- play. 'I'd like to say it was my idea,' says Randels. 'But really it just came to me. It was divine intervention.'

This past January, Randels, Hammons and Fox performed their creation The Maid of Orleans at the CAC. The new work grew out of a weekend retreat where they had put together their varying impressions of the Joan of Arc story, and gradually came up with three Joan characters: Joan the Maid, Inner Joan and Joan in Limbo. Their method is nothing like the traditional script-driven narrative theater, where actors memorize lines written by an author. The Moving Humans prefer creating a performance where anything might become part of the play before it reaches the stage, and no one knows for sure in the beginning what the end might be. 'The spontaneous and the instantaneous,' explains Hammons.

The Maid of Orleans also served as a showcase for Randels' beautiful singing voice and music by Sean LaRocca, who is Randels' collaborator in both art and life -- they're engaged to be married. LaRocca, who plays keyboards and guitar mainly, has performed with the reggae groups The Shepherd Band and Cool Riddims & Sista Teedy. Lately he has been putting all his musical talents into composing and arranging the music for Randels' shows.

'He is also a math genius, so we made him the treasurer of ArtSpot,' says Randels. The two have known each other since high school, as well. They met when LaRocca was attending St. John's College, the Santa Fe, N.M./Annapolis, Md.-based school known for its Great Books curriculum. LaRocca visited his alma mater Ben Franklin to recruit for St. John's. Randels, in her senior year, had no intention of slogging through the Great Books, but she feigned interest just for a chance to talk to this 'cool older guy' because she thought he was cute. They chatted at a nearby Burger King and dated for two weeks, before going their separate ways. They reconnected years later when LaRocca came to see Randels do Rage Within/Without in New Orleans. She found he had left his business card in her comment book at the end of the performance.

'Kathy's singing is really her calling card,' says LaRocca. 'So many people say that's the thing from her performances that stays with them the longest. And it was certainly true for me too. When I saw her in Rage, she did this incredible bluesy song -- by the way, did you make that up or did you steal it?' he asks Randels, who's sitting next to him.

'I made it up,' she answers.

'See, what did I tell you? She makes things up all the time!'

They have a playful disagreement about who exactly contributes what to the music -- it's all part of that blurry, dynamic creative space that produces performance art. One thing is clear from LaRocca's view: 'Kathy is the most adept musician I know. She hears melodies like a classical musician. Maybe this is from singing in church, but Kathy hears all the lines running next to each other through the music rather than just the melody on top of the chords.'

'Hmm,' she says. 'I didn't know I was doing that.'

TWO ARDENT ADMIRERS OF KATHY RANDELS LIVE
in Lakeview -- Dick and Eloise Randels, her parents. Her father is a retired Baptist preacher, and her mom raised five children before going to work as a teacher. Her mom also makes the costumes for many of Randels' shows, which she is happy to do even when she finds herself somewhat dismayed by the amount of her daughter that sometimes shows through the costume.

Last year, Randels performed in Nita and Zita, a play written by Lisa D'Amour, based on the lives of two reclusive sisters, former exotic dancers who passed their twilight years painting polka dots all over their Ninth Ward home. (A New York performance of the work earned Randels, D'Amour and Randels' co-star Katie Pearl a 2003 Special Citation Obie Award.) For Nita and Zita, Eloise Randels sewed a lovely dance leotard for the opening scene. Costume designer Shawn Hall altered her work by making a large hole to reveal a wide expanse of Kathy's stomach.

'Now I liked when she did Our Town,' says Eloise Randels, referring to her daughter's high school play. 'She has so much talent, she can make you feel she is that person up there, not just acting.' She also says that at a young age, Kathy displayed a precocious appetite for theater. For her first grade play, she memorized not only her own lines, but all the other students' lines as well. 'Kathy used to be very shy, if you can believe,' says her mom. 'So I was worried if she could do it. When it came to her speech, she was so into the part. And if the other children forgot their part, she'd turn around and tell it to them. I could see that when she got on stage, she knew: "I'm where I'm supposed to be.''

Randels' father says his favorite is her piece Rage Within/Without -- 'because that's my little girl doing it all herself. Her mom has a tough time hearing the language coming out of her daughter's mouth. But it's the character she's playing. I like that play because Kathy is a social activist. She not just interested in faith, but faith being lived in the world. Relating to people. Reacting to their needs.'

They attend all her performances. 'I ask her, "What does that mean?' And she always says, "Well, Daddy what does it mean to you?' I've gotten so I don't ask anymore,' he says, with a chuckle.

Although they acknowledge they may not always understand what she is doing -- her mom is still a little mystified that Kathy shaved her head for Rumors of War and made a hat for her daughter to wear in church -- her parents clearly believe in her work. 'A lot of folks object to something, but won't take a stand,' Dick Randels says. 'Kathy will take a stand no matter what.'

In turn, Randels credits her upbringing by these two people of faith who 'make the daily walk with Christ' as an influence in her development as both activist and artist. Her parents taught her there is always something larger than herself. She says her own spiritual practice is not clearly or easily labeled, but it has moved beyond the Baptist church: 'It's not just Christ I walk with. There are others.' Others such as Eleggua and Obatala, both from the Santeria tradition. The first opens the doors between the realms; the second is the guardian of justice.

'I do aspire to be Christ-like,' Randels allows. 'It means show love. Be love. And it's hard; I'm not there yet. It means pacifism and figuring out what that means. Putting the ego away to make something better in the world. Service.'

One way in which Randels serves the cause of justice is the class she teaches through the Urbanheart program at the Frederick A. Douglass Senior High School in the Ninth Ward, teaching a group including some fourth graders from nearby Drew Elementary School how to create a play about the Plessy v. Ferguson Supreme Court ruling. Randels sees her work in the school as helping to balance an inequity in the quality of resources that these students receive.

One recent Tuesday afternoon at Douglass, the performance artist was teaching -- and practicing -- the art of discipline. 'If you come on stage to distract us, then you will have to go sit down,' she says in a quiet, firm voice to one uncooperative girl. At the beginning of class the kids are pinwheeling with excess energy, but by the end Randels succeeds in getting them all to focus on the same game, practicing different movements and watching each other for changes -- the seeds of stagecraft. One of the boys dubs her 'cool girl Kathy.'
For Lower 9 Stories, a group of high school students performed on the levee at Deslonde Street, in a play that consisted of stories about the past, present and future of the lower ninth ward from the point of view of the kids who live there.
Photo By Tracie Morris/Donn Young Studio
Following the Sept. 11 tragedy, 'serving community' took on yet another meaning for Randels. Fellow artist Jon Graubarth invited her to create a performance piece to do in an open area next to the Marguerite Oestreicher Fine Arts gallery on Julia Street during Art for Art's Sake, which took place just a few weeks after the crash. She fasted beforehand, and then for the performance, which Randels called Mourning, she wore something that resembled a wedding dress, her face painted with a single tear on her cheek. The piece was supposed to last two hours, but Randels went on for four, moving about the space, singing and mixing salt into jars of water and interacting with an empty chair as if spirits of the crash victims were seated there. At a certain point she began to envision the spirits of her own loved ones who had died. Then she cut off handfuls of her own hair and scattered it on the ground. The hair cutting resonates as an ancient custom of grieving, but the harshness of it roused an audible outcry from the audience. Randels thought some of them might be wondering if they should step in and stop her from hurting herself. Hadn't she gone too far? Was this acting? A performance? Or was she undergoing something too real and intimate to be born in public?

Randels would say yes to all these questions. Her sense of what she does in pieces like this and her Black Lady performance is that she enters an ego-less state of being completely present -- not exactly a trance but a state where the usual attachments that make up her identity aren't there. 'Then I experience emotions, so the people who watch me get to experience those emotions also,' she says. 'So I am a conduit for them to have that experience.'

The act of undergoing a profound experience for the benefit of others -- and obeying an inner authority despite the potential to be misunderstood -- suggests parallels between the performance artist and such figures as Joan of Arc and Christ. The similarities continue in Randels' basic job description for a performance artist, which is that she listens to instructions and carries out tasks. 'Now this kind of talk has always been dangerous, listening to voices and acting on them,' says Randels. 'It's stepping off a cliff of some kind. To leave this mundane reality is frightening and dangerous and perceived as lunacy. And yet that is the role of the artist in all times.

'When I perform, I am asking those who watch to go with me to dangerous places in themselves. These are the places we avoid because if we went there and looked at them, we might have to change our lives.'

The performance artist does her work without fully understanding where her actions will lead. Like Joan of Arc and Christ, they undergo their passage surrounded by mystery. Randels' father might call this process 'faith.' Randels and her fellow performers call it 'magic.' J Hammons offers a good working definition of magic as 'the stuff that happens in between the stuff we think we understand.'

There was one performance that Randels says brought together all things that are most important to her: communal ritual, service, art and magic. About five years ago, she directed a group of high school students in the play the Lower 9 Stories, which they performed on the levee at Deslonde Street (costumes by Eloise Randels). The play consisted of stories about the past, present and future of the Lower Ninth Ward from the point of view of the kids who live there. The first two sections, past and present, described what was lost in the old neighborhood and the poverty and problems that rushed in to fill the void. In the section devoted to the future of the neighborhood, the students guided the audience in a ritual of hope. The students distributed rose petals to everyone in the audience who stood in a large circle. Then the students invited the audience members to invest their rose petal with some wish for the future of the Ninth Ward. As the students walked around the circle with a basket, each audience member shouted their wish out loud and dropped the rose petal into the basket. There were calls for peace, prosperity, love, justice, understanding, 'divine abundance,' 'healing for all' and to 'undo racism.' Someone mentioned 'transformation through theater.' They covered it all. Then the students walked over the rise of the levee to the edge where the Mississippi River lapped at the stones. There they turned the basket over and scattered the contents onto the surface of the water.

The students cheered, and one young man turned back to the audience and shouted, 'Ladies and gentlemen! As far as I see it, your wishes are come true!'

This act captures the ephemeral nature of so much of Randels' performances. Was the ritual just another necessary act of futility? Did those delicate flowers accomplish their aim or were they swallowed up by the rolling force of the water? There's no way of knowing. But in a world where so much needs to be made right, a performance artist can only keep doing what she has always done best -- setting rose petals upon the river.