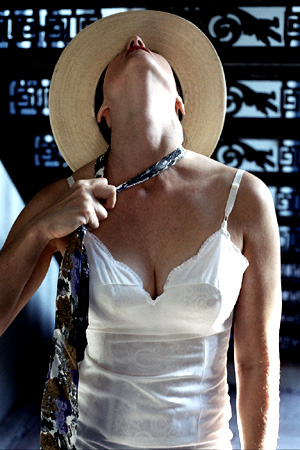 What wellsprings of imagination and inner turmoil fueled Tennessee Williams' life-long career in the theatre, and his creation of such vivid yet fragile heroines? To coincide with this year's Tennessee Williams Literary Festival, ArtSpot Productions presents an evocation/invocation of the life and career of New Orleans' favorite playwright, inspired by and adapted from his memoirs, letters and essays.
To Flee, Flee This Sad Hotel is conceived and performed by Kathy Randels, one of New Orleans' premier theatre artists, directed by J Hammons, and features the live piano accompaniment of Tom McDermott (another St. Louis Tom!) and a magical set by Jeff Becker. In various settings from his life—apartments in New Orleans and New York, the Barnes Hospital in St. Louis—Randels portrays Tennessee Williams and two of his beloved heroines, Maggie the Cat and Blanche Dubois, in this unique picture of America's greatest 20th century playwright.
Extracts from works by Tennessee Williams presented through special arrangement with The University of the South, Sewanee, Tennessee.
-----------------------------------------------
Kennedy Center
Millenium Stage
Washington, DC
August 23, 2004 at 6pm