Presented with the Contemporary Arts Center, Matt Borel and Carla Decorte, How to Be a Man in the 21st Century was a full-length performance art piece in three acts that explored the improvement and decline of gender relations in America at the end of the millennium. Directed and performed by Kathy Randels with a cast of eight men, the piece peered with hope into the future of the male psyche and his relationship to womankind.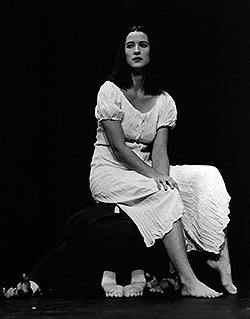 The opening act, "Infinity (a modern faerie tale)," was a solo spoken/dance piece written and performed by Randels. Portraying a kind of Little Red Riding Hood — a young woman struggling to identify herself apart from the men in her life and from societal expectations — Randels creates the infinity symbol onstage with a trail of bread-crumbs, and then continually traces and retraces this path, unable to leave it. Finally, in a drastic move, the heroine tears herself from the path and sweeps the stage bare, preparing to embark on uncharted territory.
In the second act, "Fields of Gold," Randels is joined on stage by Raymond Vrazel, and they act out the love and struggle that all too often accompany intimate relationships as the woman looks back at a relationship she has abandoned. Text and additional music was composed by Randels and performed live by cellist Barbara Opal.
The final act, also called "How to Be a Man in the 21st Century," featured men in suits and slips, statuesque figments of the author's dream as she tries to "figure men out": they speak, dance, play in — and buck — their stereotypes. At the end, each actor declares his or her own vision of how 'men' will be the 21st Century.

L-R: Antonino Paone, Sean LaRocca, William E.B. O'Neal, Walter T. Coles III,
Frank Harper Brown,Roscoe Reddix Jr, Jacob Gaffney, and Randels.

How to Be a Man in the 21st Century was supported in part by a grant from Louisiana State Arts Council, and the Louisiana Division of the Arts, Office of Cultural Development, Department of Culture, Recreation and Tourism, and the National Endowment for the Arts; and by: Scott LaBarre, Michael Batt, Rene Broussard, Amy Cahn, Rich Collins, Peter Corby, Dah Theatre, Richard Dodds, Deenie, Audrey Emmett, Adella Gautier, Barbara Hayley, Dr. Henry Hoffman, Junebug Productions, Fred Kasten, Pamela Marquis, NOCCA, NOW, Yvonne Olivier, On Dumaine Printing, John O'Neal, John Otis, Daniel Pettrow, Jon Pult, Jim Randels, Rev. J.R. Randels, Beverly Trask, Tulane/Newcomb Dance Dept.
The piece was dedicated to Lynne Blom, Tim O'Slynne and Patricio Carreño.