2006

2007

2008

2009
Festival

April

May

June

September

October

November


Sunni Patterson
: Spoken Word and Song
Sunni is a poet and teacher from New Orleans.


Ahda Hann
: MotionPoem
A poetís indyrock opera! With original songs, spoken word and prose, the unchained human voice and physical theatre take the audience on a journey. Hannís MotionPoems have been presented locally at DramRama, 1018 films, and the School for Imagination. Hann produced and performed at Vaudeville2000, and won the grand prize at the Ryan Landry Showgirls Competition in Provincetown, Cape Cod last summer.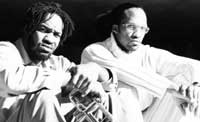 M.U.G.A.B.E.E.
Men Under Guidance Acting Before Early Extinction are brothers Maurice and Carlton Turner. Incorporating hip-hop, jazz, spoken word and R&B, these two young men are bound by the ills of the world to create the cures for the catastrophic killer; a restructuring of the thought process through positive reinforcement and just plain old good music.
Paula Larke
A North Carolinian by birth, Paula lives and works out of Knoxville, Tennessee and New York City. She has been a theatrical and musical performer, a social activist and educator for over 35 years, and an active member of Alternate ROOTS for 18 years.
Panorama Jazz Band
At first glance, this looks like a traditional New Orleans jazz band. But the presence of an accordion on stage is the first sign of trouble...

Rowdy or gentle, sweet or hot, these Big Easy Award Nominees perform musical styles from all over the world.
-----------------------------------------------
Contemporary Arts Center
900 Camp Street
New Orleans, LA 70130

For tickets, please call (504) 528-3800
or visit
www.cacno.org