2006

2007

2008

2009
Festival

April

May

June

September

October

November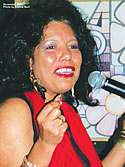 Diary Notes blends the artistic styles of dancer Maritza Mercado-Narcisse, musician Courtney Bryan, and poet Valentine Pierce. It deals with solitude, loneliness, and inner turbulence that delves into one's innermost truths and myths. Through their combined arts, the performers explore a range of emotions that are both personal and universal.
Valentine Pierce, former host of the WRBH Writers' Forum, is a performance poet, photographer and graphic designer. She is currently planning the production of her Poemographs. Maritza Mercado-Narcisse and Courtney Bryan were both recently featured in ArtSpot's New Orleans Suite.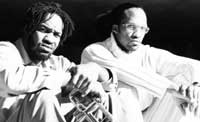 M.U.G.A.B.E.E.
Men Under Guidance Acting Before Early Extinction are brothers Maurice and Carlton Turner. Their music incorporates hip-hop, jazz, spoken word and R&B. This evening, they will present a preview of their new work-in-progress entitled Batteries, directed by ArtSpot's own Kathy Randels.
Stephanie McKee: Thoughts
Stephanie McKee, the founder of Moving Stories Dance, returns to the New Orleans stage in Thoughts. Stephanie has performed, taught and choreographed in various cities around the U.S. and abroad. She has received scholarships to: Jacob's Pillow Cultural Traditions Program; "The Dunham Legacy," where she studied with world-renowned Katherine Dunham; and to Florida State University, where she is currently the driving force behind In Motion Dance Education, a youth arts enrichment program. Deep thoughts, inspirational thoughts, media thoughts; the power of thoughts can change your life.


Also featuring...
-----------------------------------------------
Contemporary Arts Center
900 Camp Street
New Orleans, LA 70130

For tickets, please call (504) 528-3800
or visit
www.cacno.org